Rev. Emily Trubey- Weller, Pastor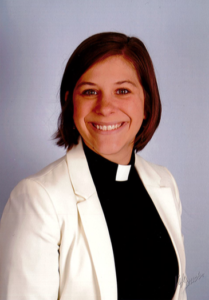 The Rev. Emily Trubey-Weller, earned her Bachelor of the Arts from Valparaiso University in Valparaiso, Indiana and then earned her Master in Divinity from Pacific Lutheran Theological Seminary in Berkeley, California. She spent the final year of her seminary studies as an intern at Trinity Lutheran Church of Manhattan on Manhattan's Upper West Side. Pastor Emily was ordained to the ministry in January 2015 at her home church in Ohio after being called to serve St. Stephen's.
Pastor Emily is committed to sharing the message of God's love for us, especially shown through Jesus. That love and grace is where our love and service for others begins.
---
Tracey Rosen, Music Director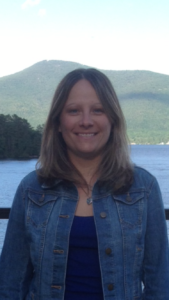 Tracey has been playing the piano since she was six years old, and has been musically active in her church since she was a teenager. She took over as Music Director of New Hope Lutheran Church in Valley Stream in 2010.
Outside of church, Tracey has been a board-certified Music Therapist for 12 years. She currently works with special needs preschool children, and volunteers at Winthrop University Hospital in a songwriting group at the Cancer Center for Kids. Tracey has also previously worked with a geriatric group at Brookdale University Hospital in Brooklyn, and with foster children living in a residential facility in Sea Cliff.
Tracey went to Berklee College of Music in Boston for her Bachelor's Degree, where piano was her principle instrument. She then went on to Molloy College in Rockville Centre for her Master's Degree. Tracey has been a member of the Long Island Choral Society since 2005, and a member of their Board of Directors since 2015.
In addition to a love of reading, Tracey also loves to go to the beach, the gym, and being with her cousins and "nephews".
---
Fern Funk, Parish Administrator

Fern is a long-time resident of Hicksville and is happily married with two adult children. She's been the Parish Administrator at St. Stephen's Lutheran Church since 2012 and thinks of it as her second family. Prior to St. Stephen's, she was an Administrative Assistant to the Director of Manufacturing at Center Laboratories, Inc., in Port Washington. After Center Laboratories, she has held the position of Office Manager at Ann Morris Enterprises, Green Meadow Sales, Inc., and M F Mfg. ENTERPRISES, Inc. Believing in community service, Fern has served on many church and PTA boards and committees. She has been a weekly volunteer at the Hicksville United Methodist Church Food Pantry since 2008. Fern is an animal lover who adores her 4-legged children and is also an avid reader and needlecrafter.
---
Gail Agarenzo, Director of St. Stephen's Nursery School

Gail Agarenzo is a Hicksville resident and 21 year member of St. Stephen's Lutheran Church. In 2010, she was appointed Director of St. Stephen's Nursery School, and with her 30+ years of managerial experience, oversees the daily operation of running the Christian nursery school. With a staff of 13 teachers & assistants, along with over 130 preschool children yearly, she has raised awareness and brought St. Stephen's Nursery School back out into the forefront in our community as one of the best nursery schools on Long Island. In 2013 and 2014 the school was awarded "Best Of" in the nursery school category by the Long Island Press newspaper. The school has also received other awards through Lutheran Social Services for its ministry through donations to their new mother program and food pantry, which helps those less fortunate in Nassau County.